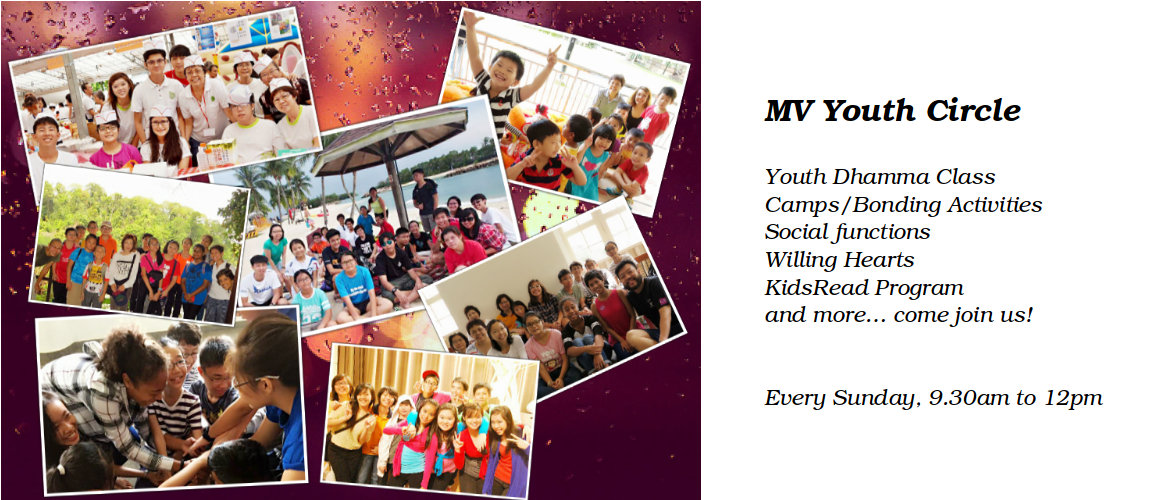 Our activities
Objective
Activity
Date and Time
Venue
Descriptions
Educational
Youth Dhamma Class
930am–12pm,
Sun
MV
Our weekly Dhamma class is part of the Mangala Vihara Sunday Dhamma School and builds on the children's classes to give our youths a good grounding in the Dhamma.
Spiritual
Youth Puja Leaders

MV
We give our youths the opportunity to become leaders within the Mangala Vihara community by training them to become puja leaders for the Sunday Dhamma School puja service.


Spiritual
Vesak Choir
Vesak
MV
Every year, our music-loving youths form the choir for the special Vesak puja.
Social
Social functions
We organise regular outings, both during and outside Dhamma class times, to give our youths more opportunities to bond and socialise. The youths have been to several Buddhist exhibitions at the Asian Civilisations Museum, on a nature walk at MacRitchie Reservoir and annual bonding days at Sentosa and East Coast Park.
Leadership
Camps/Bonding Activities
Our annual camps or bonding activities are organised solely by the youths, with support from mentors, to give them the opportunity to hone their leadership skills.
Community Service
KidsRead Program

10–11am,
Sat
Block 32 Chai Chee Avenue, S461032
An initiative of the National Library Board in partnership with People's Association, this nationwide reading program aims to promote the love of reading among children from lower income families. Our youths volunteer every week, for an hour.
Community Service
Willing Hearts
10am–12pm,
every last Sun of the month
Meet at the Shrine Hall after puja and walk to Willing Hearts together
Our monthly community involvement programme aims to give youths the opportunity to practice the Dhamma on a regular basis by helping out in the soup kitchen.
Community Service
Buddhist Free Clinic Donation Drive
In May or June
MV
In conjunction with Vesak celebrations every year, our youths will manage stalls to raise funds for the Buddhist Free Clinic, traditionally in the month of either May or June.
To find out more or join any of these activities, drop us an
email
or visit us on
Facebook
.
How we started
Between June to August 2005, 7 youths from the Dhamma Classes and 5 mentors appointed by our late Bhante Mahaweera and the then Management Committee attended a Youth Leadership Course organised by Shan You Counselling Centre. At the end of the course, the youths emerged as more enriched Buddhists and the mentors to learn the valuable ways of relating to younger people. MV Youth Circle (MVYC) was then formed at the end of the course in August 2005 with the following objectives and vision.
We aim to
1. Introduce Buddhism to youths in a fun-loving way.
2. Provide exciting, challenging and experimental activities and foster friendship through interaction and bonding.
3. Engage in community service.