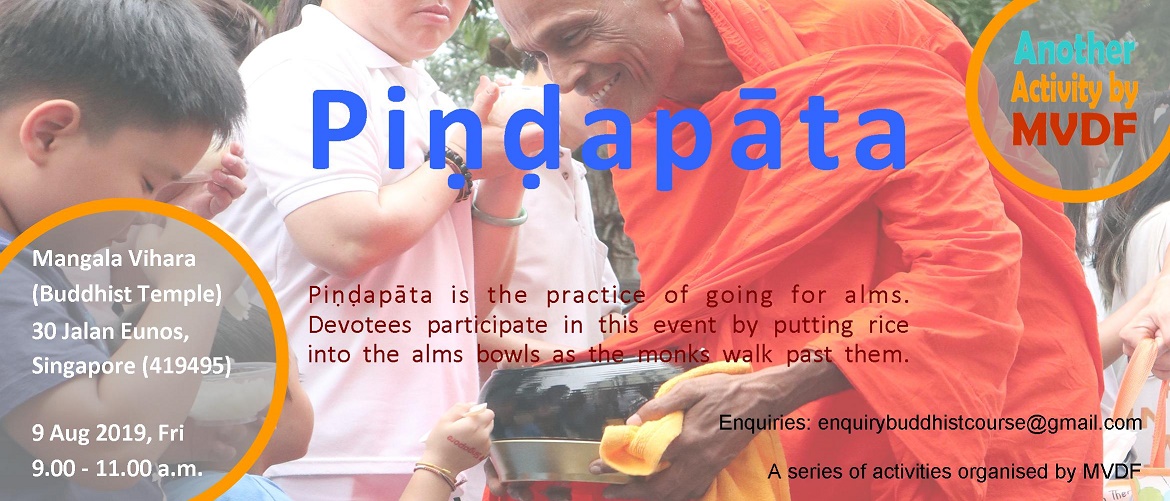 Pindapata is the practice of collecting alms food, is observed by Theravada monks. Devotees participate in this event by putting rice into the alms bowls as the monks walk past them. They also perform the meritorious deed of Sanghika Dana by offering other food to the monks. MVDF is organizing Pindapata for all devotees to perform this meritorious deed of alms-giving. By doing so, the devotees accrue abundant merits.
On this day a potluck lunch is been organized. Devotees who wish to contribute any dishes and while preparing food for Dana, please consider the details below;
Cooked vegetarian food, Fruits; Wash and cut them before bringing it to the temple. If it is with seeds, please remove the seeds before bringing it to the temple. Dried food; You are welcome to Dana e.g. biscuits, cereals, instant noodles, etc.
Next Pindapata
Time
9.00am – 10.00am
(Food are brought to temple between this time)
Venue
Mangala Hall
Enquiry
Enquire / Poster
Articles
Photo Gallery 2017
Photo Gallery 2018
Photo Gallery 2019