MVDF 10th Anniversary Souvenir Magazine
The year 2019 marks a historical milestone of the MVDF which was formed on 4th October and launched on 22nd November 2009, as we celebrate our 10th Anniversary.

This Souvenir Magazine (electronic Souvenir Magazine) is designed not just for commemorating the joyful occasion, but importantly it serves as a chronicle of the history of the MVDF for future reference.
MVDF Programmes
| Programme | Remarks |
| --- | --- |
| Community Outreach | Visit lonely elderly around Eunos Crescent |
| Pindapata | Practice of collecting alms food |
| Library & eLibrary | Conducive environment for learning the Dhamma |
| Buddhism In Daily Life | External and internal speakers are invited to share the Dhamma with the participants |
| Sutta Study Class | Fundamentals of Buddha's teachings through selected Suttas from the Pali Canon |
| Abhidhamma In Daily Life | Study of how our mind works and its interaction with the body. Topics are simplified so that it is easier to learn and understand in order to apply wholesome practices in our daily lives. |
| Nikaya Sharing | Let us return to the original teaching of the Buddha |
| Spiritual Support | Provide spiritual support to the sick and relatives of the dead. (Webpage currently not available pending activation. Will commence construction work immediately upon authorization). |
| Oversea Trip | Organized yearly oversea trips to other Buddhist countries. (Webpage currently not available pending activation. Will commence construction work upon authorization). |
MVDF Articles, Audio & Video Recordings


Articles, video and audio recordings of MVDF programmes held at MV.
The Formation of MVDF
It was Bhante Raja who saw the need for the establishment of the Mangala Vihara Dhamma Fellowship (MVDF) in order to cater to provide avenues for the bonding and interaction amongst the ever increasing number of students of MV Sunday Dhamma School. He proposed the formation of the Fellowship during a Teachers' Meeting. Seeing how the MVDF would benefit the teachers, students and the temple, the Chairman and his committee of Mangala Vihara gave their full support.
On the 4th Oct 2009, the MVDF committee was formed with Bhante Raja as the Spiritual Adviser. Brother Raymond Yow was nominated to be Chairman and Sister Cheng Seow Eng was appointed as Secretary. The other committee members include Brother Lee Teng Yong, Sister Lily Chan, Sister Nina Wong, Sister Lee Mee Yin and Sister Ellen Lim. Current Exco Members were gradually recruited and were designated their individual portfolio. In 2013, Bhante Raja exited himself as Spiritual Advisor and was replaced by Bhante Cakkapala.
To foster better interaction and to encourage the current students to play an active role in the MVDF, its 3 Core Values were initiated:
1. Learn – the Dhamma to develop Right Understanding.
2. Practise – compassion, gratitude and generosity.
3. Share – our knowledge selflessly and propagate the seeds of Buddhism.
Objectives of MVDF:
1. to enhance the bonding of all current and ex-students, and teachers through the various activities organized;
2. to promote closer integration, caring and sharing amongst its members;
3. to put into practice the teachings of the Dhamma.
MVDF Committee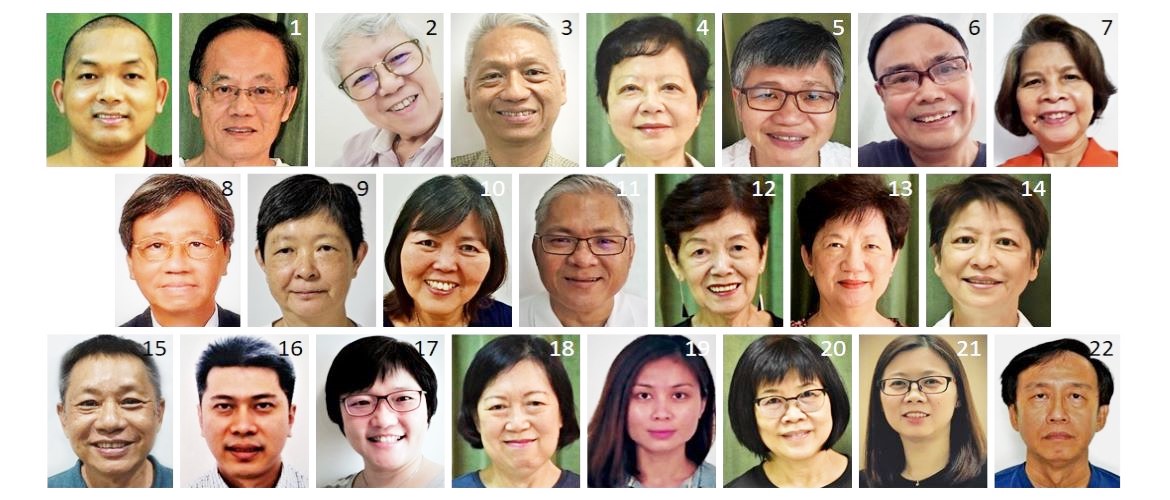 Title
In-Charge
Spiritual Advisor
Bhante Cakkapala
Chairman
Raymond Yow (1)
Vice Chairman
Lily Chan (2)
Legal Advisor
Linda Sim (18)
Secretary
Angelin Chong (4)
Assistant Secretary
Ellen Song (13)
Doris Sim (12)
EDUCATION
Abhidhamma in Daily Life
Lily Chan (2)
Sandra Koh (20)
Lim Siew Hong (17)
Buddhism in Daily Life

Raymond Yow (1)
Lim Siew Hong ((17)
Sutta Study Class
Alex Lim (3)
Angelin Chong (4)
Library
Chin Kee Thou (8)

EVENTS
Programme Co-ordinator
Heng Qwee Siang (14)
Christine Chaim (9)
Suriaty Simon (21)
Cynthia Tan (10)
Safety Co-ordinator
Chan May Wan (5)
Logistic Support

Hing Seng Huat (15)
David Chua (11)
COMMUNITY OUTREACH
Local / Overseas
Cheng Seow Eng (7)
Ellen Song (13)
Cynthia Tan (10)

SPIRITUAL SUPPORT
Chanting/Maranasati/ Blessing

Suriaty Simon (21)
Hing Seng Huat (15)
David Chua (11)

MEDIA / COMMUNICATION

Webpage Co-ordinator
Chin Kee Thou (8)

Video Recording

Oranje Lwin (19)


Graphic Design


Cameraman
Chin Kee Thou (8)