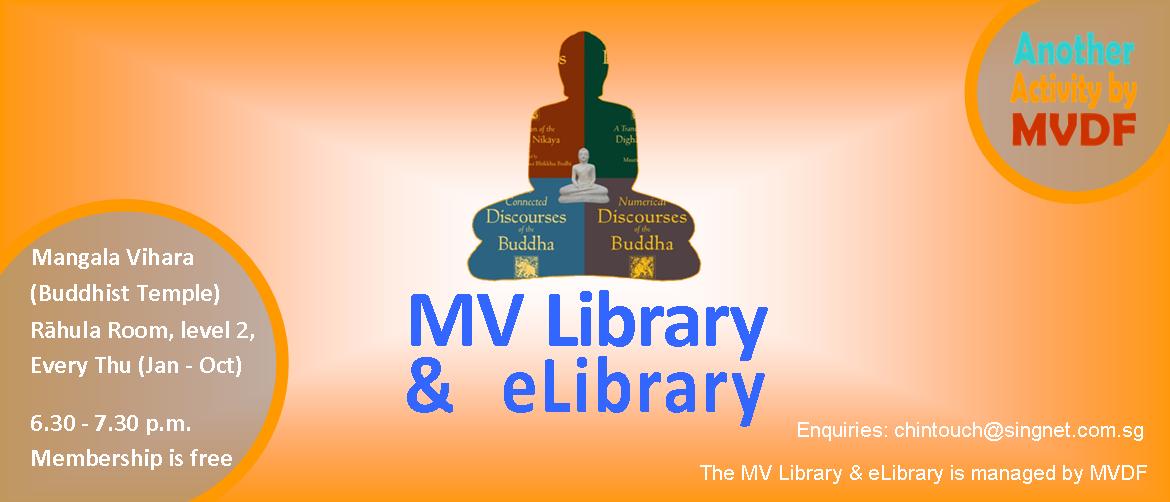 A comprehensive collection of Buddhist texts, books and literature in Pali, English, Chinese and Burmese including Pali Canon and Tipitaka in English. Registered members are allowed to borrow books. For registration as a member, please bring along identification document like identity card, passport, employment pass, or work permit.
The library provides a conducive environment for learning the Dhamma or the Buddha's teachings. It is equipped with a full set of Nikayas and many research materials from the Theravada and Mahayana traditions. Members can browse through a wide range of materials from Buddhist Philosophy to Buddhist Psychology. The library is open to all and loans of books are free of charge.
To keep up with modern times and move along with the cyber age a digital platform or an electronic library has been established to supplement the bricks-and-mortar MV Library for the convenience of savvy readers on the go anytime and anywhere with a digital device with Internet connection.
You may visit MV eLibrary to browse, read or download a comprehensive collection of resourceful materials.
Open
Closed, no Sutta Study Class for now.
(Every Thursday coincides with Sutta Study Class)
Closed for now.
(7:00pm - 7:30pm)
Close
Public holidays, new moon day and full moon day
Venue
2nd Flr, Rahula Room
Articles
Photo Gallery
MV eLibrary comprises all the items below.
It encapsulates all the hyperlinks below.
MV eLibrary Books
Catalogue - General
总目录
目录 - 中文书籍 以作者顺序排列
目录 - 中文书籍 以书名顺序排列
Catalogue - English Books by Author
Catalogue - English Books by Title
Resourceful Websites
Enquiry
Enquire